Fabric samples are free and easy at RV Supply Warehouse! Just add this item to your cart and checkout. Your drapery color samples will be on their way to you via USPS assuring that you will be able to order the exact color you need for your RV. It is HIGHLY recommended that you take the time to see the fabric in person before ordering these non-returnable/Special Order drapes.
One set of swatches per mailing address is free.
These custom-made drapes are made to your exact measurements, presenting an elegant feel to your RV.
A separate lining provides superior privacy, light control and insulation.
These drapes come in 2 panels with matching tiebacks and a Velcro closure at the center.
Choose from 1 of 6 tasteful colors.
* Specially selected RV Fabrics
* Custom made to your motor home
* Ready to hang on your existing track
* Fully lined
WORKSHEET

Measurements for Motorhome Windshield Drapes

DRIVER-SIDE track length: ____________________

PASSENGER-SIDE track length: + ____________________

TOTAL Track Length (Driver + Passenger) = ____________________

DRAPE LENGTH: ____________________

When measuring for RV windshield drapes, measure each track from side to side for the width, and from the top of the track down to where the curtain should fall for drape length. We always add an extra 6" to the width of each panel to allow for fullness, so you can be sure your custom RV windshield drapes will hang nicely and fully cover your windshield. We do not need any measurements from old drapes.
Measuring Instructions:
1. Track Width: Measure the driver and passenger sides separately, providing the amount of track that each drape panel will cover when closed. Type these measurements in the appropriate area provided below, then total the 2 amounts. RV Designer Collection will add extra material for proper drape fullness.
2. Drape Length: Measure your current drapes from top to bottom. Or, measure from the bottom of your track to where you want the bottom of your new drapes to fall. Provide this information in the provided area below.
3. Choose from 6 tasteful colors. Fabric is polyester/cotton. Lining is polyester/cotton. Dry cleaning is recommended.
4. Drapes will hang on your existing track. See the pictures of curtain carriers to select the carrier that shows how your drapes attach to your track.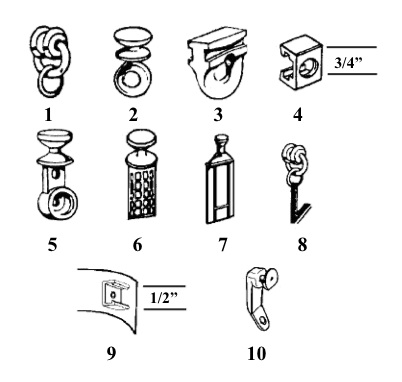 **Please note--these Custom Made drapes are made to order and ship directly from the manufacturer (California) and we are currently experiencing about a 3 week processing period from date-of-order to date-shipped.
Turin
The supple, rich sheen projects an eye-catching affordable elegance. Terra based neutrals and a novel bank of colors, highlight this innovative faux silk. Passes MVSS-302 fire retardant test.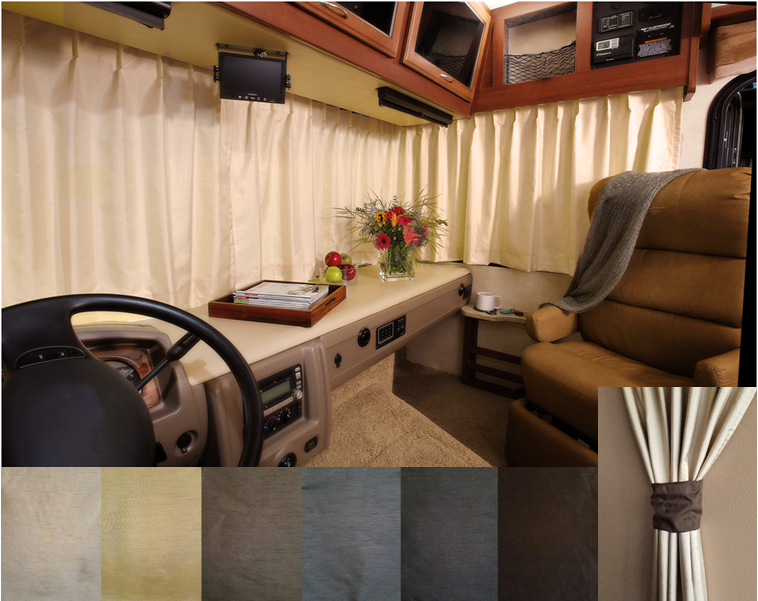 From left to right, colors are: Stucco, Cork, Lentil, Flagstone, Legend and Lodge.
Please note colors may display differently on your monitor.