Measure your curtain track. Measure driver and passenger sides separately. Tell us the amount of track that each drape panel will cover when closed. The manufacturer will add for drape fullness.
Measure your old drapes from top to bottom. Or, measure from the bottom of your track to where you want the bottom.
Drapes will hang on your existing track. Choose the carrier that currently attaches your drapes to your track. If you select 5, 6, 7, or 8 we will substitute 2, 3, or 1 and make your drapes with stainless steel pin hooks.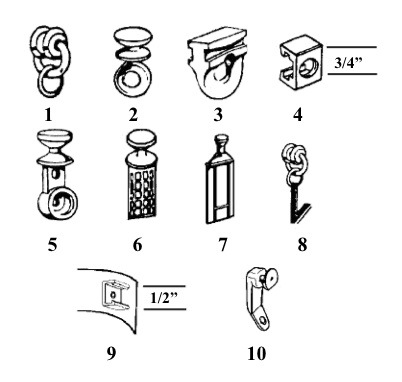 One pair of tiebacks is included 18 inches long by 6 inches wide. Tieback attachments are included. Cutouts, three or more panels, and larger tiebacks can be done at an additional charge.
Curtain Carrier Details:
Will my new windshield drapes be made with the carriers I selected on my order?
When you place your order, we ask you to identify your current drape carrier.
From your choice we are able to determine the type of drapery track that you have.
The manufacturer will make you the best drape that will work with that track.
Sometimes this means using a different carrier from your old one.
*Special note about the #4 snap carrier and #9 glide tape*
Although these 2 carriers look the same, they are not interchangeable. The vinyl tape they are attached to gets sewn into the pleats of the curtains and requires extensive labor to change out, so please be sure to measure the size of your carrier to make sure you order the correct one.
The #4 snap carrier is 3/4" in size and fits on 5/8" track, and the carrier can be removed from the tape. This carrier is more common on RV's made before 1990.

The #9 glide measures 1/2" in size and fits on 3/8" track. The carrier is permanently riveted to the tape and cannot be removed. This carrier is more common on RV's made in 1990 and newer.
**Doublecheck the size of your carrier before you choose #4 or #9**
CARRIER #5
If you select carrier #5, your old drapes were made with snaps. Your new drapes will be made with pin hooks and include carrier #2, which accepts pin hooks and fits the same track as #5. This is because the new drapes, made with pin hooks, will:
open & close more easily

hang, pleat & look better

stack tighter when opened, and be out of the way for driving

be easier to remove for cleaning or service.
Note to Winnebago owners: You may have small, square sliders in your curtain track. Remove these, then slide in your new carriers.
CARRIERS #6 & #7
Carriers #6and #7 are sew in tabs. Drapes made with these tabs are difficult to remove for cleaning or service. If a tab breaks, it is very difficult to replace. If you selected 6 or 7, your new drapes will be made with pin hooks, and include new carriers that will fit your track.
Carrier #8
Carrier #8 rolls on "I" beam track, and hooks into a loop tape that is sewn to the top of the drapes. These drapes are typically not pleated, and are prone to coming loose as the loops break. If you selected #8, your new drapes will be made with pin hooks and include a complete set of carrier #1, which fits "I" beam track.