MTO SL Acrylic/FLXguard Window Awning
A new look to match a new generation of awnings!
Save on A/C and complement the sleek, finished look of your 12V Patio Awning and your slideout awning.

NEW! FLXguard
FLXguard is the latest innovation from Carefree. This patent pending lightweight yet highly robust weatherguard offers the same protection properties of more expensive, heavier metal wraps but at a fraction of the cost.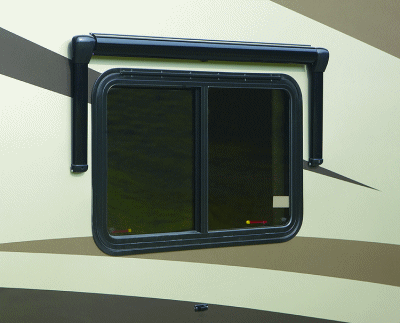 Sleek Profile
When closed for travel, the SL Window Awning offers a sleek profile that blends in with the RV window.
To order window awning roller assembly:

Determine the size of standard, SL, or SL XL roller assembly needed. Measure the window and add six inches to determine the best awning fit. A 4′ window should have a minimum of a 4-1/2′ window awning.
Specify the fabric type and color. Choose from Standard Acrylic fabric or Optional Custom Acrylic Solids and Stripes.
Specify color of FLXguard: White, Black, Carbon, or Satin.
Fabric Choices:
View Carefree's companion awning fabric options
Acrylic Fabrics
Acrylic fabric is a woven cloth that allows air to circulate through the fabric. They can handle burning sun, drenching rain, freezing ice and snow, wicked winds, irritating dust and dirt, pesky bugs-you name it. The woven acrylic cloth can quickly dry and although not recommended, it is able to be rolled up when wet. Since woven acrylic is very breathable, the air constantly moving through the fabric means that the temperature under the canopy will stay cooler than under vinyl awning fabric. Since the patterns and colors are woven in the acrylic fabrics and not painted - you can trust that your canopy will stay vibrant for years.
Carefree of Colorado acrylic awnings are also protected with our exclusive, patented FLXguard. FLXguard is made from a Carefree proprietary polymer-based material which has the look and protection properties of expensive metal wraps at an economical price. You must have FLXguard in order to install acrylic fabric.
Click to view your Standard and Custom Acrylic choices.
Choose from standard or custom acrylic fabrics. Acrylic striped fabrics are available in horizontal stripes only.
Note: Available in XL Sizes
If your window measures more than 36″ tall, you'll need SL XL window awning. They come with 30″ arms and have a full 45″ extension to provide maximum shade for the largest RV windows.
To view our Special Order Terms, click here.

SL Window Awning Owners Manual


SL Window Awning Illustrated Parts List