Custom Motorhome Windshield Drapes, 191" to 210" total track length.
Size Note: If this is Not your size, you can easily find Your Right Size Custom RV Windshield Drapes by seeing them all in our handy chart.
Custom RV Windshield Drapes are drapes for your RV front driver's windshield. They are pleated and made in pairs (2 panels), but can be ordered as a single panel, three panels, or with stepped lengths for an additional charge. All custom RV windshield drapes come with one set of tie backs that secure with Velcro, so they can be easily kept out of the way when not in use. When measuring for RV windshield drapes, measure each track from side to side for the width, and from the top of the track down to where the curtain should fall for drape length. We always add an extra 6" to the width of each panel to allow for fullness, so you can be sure your custom RV windshield drapes will hang nicely and fully cover your windshield.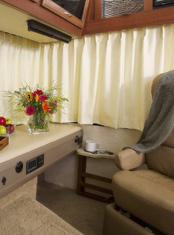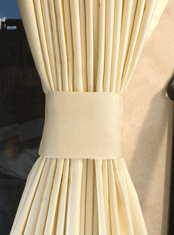 Turin
The supple, rich sheen projects an eye-catching affordable elegance. Terra based neutrals and a novel bank of colors, highlight this innovative faux silk. Passes MVSS-302 fire retardant test.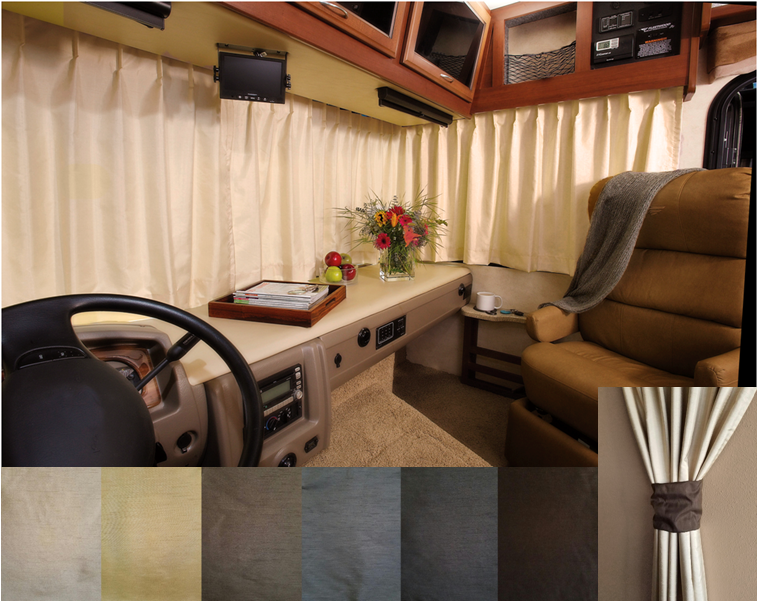 From left to right, colors are: Stucco, Cork, Lentil, Flagstone, Legend and Lodge.
Please note colors may display differently on your monitor.
These custom-made drapes are made to your exact measurements, presenting an elegant feel to your RV.
A separate lining provides superior privacy, light control and insulation.
These drapes come in 2 panels with matching tiebacks and a Velcro closure at the center.
Choose from 1 of 6 tasteful colors.

* Specially selected RV Fabrics
* Custom made to your motor home
* Ready to hang on your existing track
* Fully lined


Click here to view and/or print the Custom RV Windshield Drapes Measuring Worksheet.
Measuring Instructions:
1. Track Width: Measure the driver and passenger sides separately, providing the amount of track that each drape panel will cover when closed. Coach Coordinates will add extra material for proper drape fullness.
2. Drape Length: Measure from the top of the track down to where the curtain should fall for drape length.
3. Choose from 6 tasteful colors. Fabric is polyester. Lining is polyester/cotton. Dry cleaning is recommended.
4. Drapes will hang on your existing track. Click here to see the details of curtain carriers to select the carrier that shows how your drapes attach to your track.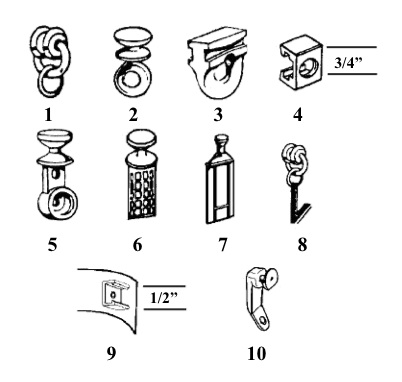 We highly recommend that you request fabric samples so that you can view the available colors in your RV environment. Different lighting conditions and other finishes will help you to confidently make the right color decision. We will mail all 6 colors to you, for free, as soon as you submit your order for Custom RV Windshield Drapes Fabric Samples.
**Please note--these Custom Made drapes are made to order and ship directly from the manufacturer (California) and we are currently experiencing about a 2 to 3 week processing period from date-of-order to date-shipped. Click here to view the RVSW Terms for Special Orders.
Best Replacement Curtains Ever

We had older off white curtains in the RV that needed to be changed. I came to this website and found the curtains I wanted. The order process was very easy. The curtains arrived exactly as I requested. They fit perfectly and look GREAT! I would highly recommend getting your RV supplies from this company.

They were such a perfect replacement that they look factory installed.

Purchased these drapes to replace the originals in our 2004 Country Coach. Actually these are more of an upgrade than a replacement. The insulation panel is separate from the drape material which I thought was nice. Were currently experiencing 100+ degree weather and the front of the coach is not overheating. Pleased with the quality and they look great.

Delivery of product was on time (3wks from day of order), and this was to Canada. Material is good and fits & looks good. Drapes are heavier as we wanted, from the old wrap we already had. We highly recommend.

Communication and customer service it top notch. The curtains are beautiful, came packaged beautifully and fast. We ordered the 3 panels, came with tie backs, already had the hooks and ready to hang. Connie was wonderful in helping w/ the ordering. So glad we chose this company. Nice quality at a good price.